Wojtek was a Syrian brown bear bought, as a young cub, at a railway station in Hamadan, Iran, by Polish II Corps soldiers who had been evacuated from the Soviet Union. In order to provide for his rations and transportation, he was eventually enlisted officially as a soldier with the rank of private, and was subsequently promoted to corporal
During the Battle of Monte Cassino, in Italy in 1944, Wojtek helped move crates of ammunition and became a celebrity with visiting Allied generals and statesmen. After the war, mustered out of the Polish Army, he was billeted and lived out the rest of his life at the Edinburgh Zoo in Scotland.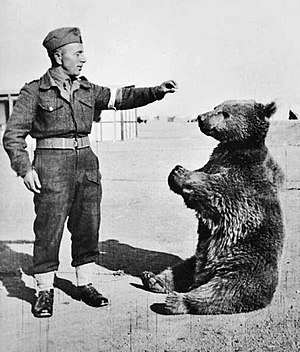 At a railroad station in Hamadan, Iran, on 8 April 1942, Polish soldiers encountered a young Iranian boy who had found a bear cub whose mother had been shot by hunters. One of the civilian refugees in their midst, eighteen-year-old Irena (Inka) Bokiewicz, the great-niece of General Bolesław Wieniawa-Długoszowski, was very taken with the cub. She prompted Lieutenant Anatol Tarnowiecki to buy the young bear, which spent the next three months in a Polish refugee camp established near Tehran, principally under Irena's care.
In August, the bear was donated to the 2nd Transport Company, which later became the 22nd Artillery Supply Company, and he was named Wojtek by the soldiers. The name Wojtek is the nickname, diminutive form, or hypocorism of "Wojciech" (Happy Warrior), an old Slavic name still common in Poland.
Born 1942, Hamadan, Iran
Died 2 December 1963 (aged 21), Edinburgh Zoo, Scotland
Source : wikipedia
Featured Image Source
Please follow and like us: