Cleopatra, (Greek: "Famous in Her Father")in full Cleopatra VII Thea Philopator ("Cleopatra the Father-Loving Goddess"), (born 70/69 bce—died August 30 bce, Alexandria), Egyptian queen, famous in history and drama as the lover of Julius Caesar and later as the wife of Mark Antony. She became queen on the death of her father, Ptolemy XII, in 51 bce and ruled successively with her two brothers Ptolemy XIII (51–47) and Ptolemy XIV (47–44) and her son Ptolemy XV Caesar (44–30). After the Roman armies of Octavian (the future emperor Augustus) defeated their combined forces, Antony and Cleopatra committed suicide, and Egypt fell under Roman domination. Cleopatra actively influenced Roman politics at a crucial period, and she came to represent, as did no other woman of antiquity, the prototype of the romantic femme fatale.
Cleopatra was of Macedonian descent and had little, if any, Egyptian blood, although the Classical author Plutarch wrote that she alone of her house took the trouble to learn Egyptian and, for political reasons, styled herself as the new Isis, a title that distinguished her from the earlier Ptolemaic queen Cleopatra III, who had also claimed to be the living embodiment of the goddess Isis.
Cleopatra was forced to flee Egypt for Syria, where she raised an army and in 48 bce returned to face her brother at Pelusium, on Egypt's eastern border. The murder of the Roman general Pompey, who had sought refuge from Ptolemy XIII at Pelusium, and the arrival of Julius Caesar brought temporary peace.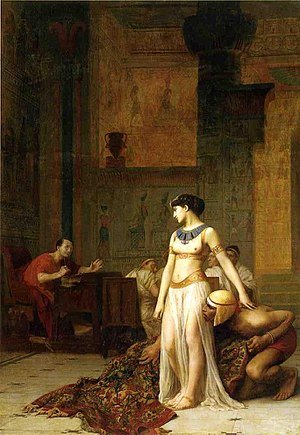 Cleopatra realized that she needed Roman support, or, more specifically, Caesar's support, if she was to regain her throne. Each was determined to use the other. Caesar sought money for repayment of the debts incurred by Cleopatra's father, Auletes, as he struggled to retain his throne. Cleopatra was determined to keep her throne and, if possible, to restore the glories of the first Ptolemies and recover as much as possible of their dominions, which had included southern Syria and Palestine. Caesar and Cleopatra became lovers and spent the winter besieged in Alexandria.
Roman reinforcements arrived the following spring, and Ptolemy XIII fled and drowned in the Nile. Cleopatra, now married to her brother Ptolemy XIV, was restored to her throne.
She was accommodated in Caesar's private villa beyond the Tiber River and may have been present to witness the dedication of a golden statue of herself in the temple of Venus Genetrix, the ancestress of the Julian family to which Caesar belonged. Cleopatra was in Rome when Caesar was murdered in 44 bce.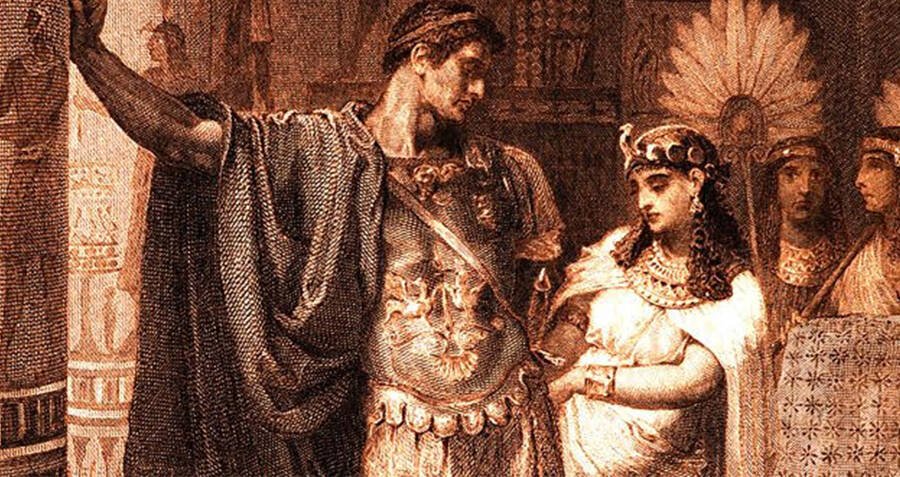 Later Cleopatra partnered with Mark Antony. Antony and Cleopatra spent the winter of 32–31 bce in Greece.The naval Battle of Actium, in which Octavian (Caeser's heir) faced the combined forces of Antony and Cleopatra on September 2, 31 bce, was a disaster for the Egyptians. Antony and Cleopatra fled to Egypt, and Cleopatra retired to her mausoleum as Antony went off to fight his last battle. Receiving the false news that Cleopatra had died, Antony fell on his sword. In a last excess of devotion, he had himself carried to Cleopatra's retreat and there died, after bidding her to make her peace with Octavian.
Cleopatra buried Antony and then committed suicide. The means of her death is uncertain, though Classical writers came to believe that she had killed herself by means of an asp, symbol of divine royalty. She was 39 and had been a queen for 22 years and Antony's partner for 11. They were buried together, as both of them had wished, and with them was buried the Roman Republic.
Source : www.britannica.com
Please follow and like us: